Demotix News by You
Demotix is the multi-award winning home of 'Street Journalism' – the newswire where YOU tell the stories.
Giving the following news about Demotix, I want also to introduce them with their Press Kit that you can find in the Press Room.
Last weekend, they broke the 250,000 photos mark and Demotix grows by 10% month-on-month.
Announced an extremely exciting partnership with Publish 2 Exchange, bringing your videos and images to 100's of US local newspapers and online news platforms across the country: an enormous market that will be able to drop into in one fell swoop.
Demotix Press Kit
Demotix is a citizen-journalism website and freelance photo agency.
Professional freelance journalists, passionate amateurs and ordinary citizens can upload their photographs and, soon, videos to Demotix and share them with the community of news-addicts. Demotix then takes the best uploads and licenses them to newspapers, networks and websites around the world using our industry contacts from Newsweek to al-Sharqiya.
Why we're doing it
Quality international journalism is in dire trouble. Only four US newspapers now maintain a foreign desk.
Reuters and the Associated Press don't have a single staffer in 40 per cent of the world's countries.
This also means it's getting harder and harder for the man and woman in the street to get their story out to a worldwide audience.
At our most globalized, we know increasingly little about the rest of the world. Foreign reporting, especially photojournalism, is now dominated by the global wires and photo agencies. For pluralist reporting to continue, independent journalists need a way of overcoming these obstacles and marketing themselves to the media. This is Demotix's role.
Our users and photography
The quantity and quality of the work being published is increasing every day. We now have over 5000 users uploading their photography and videos from all over the world – from Azerbaijan to Andorra and from Uruguay to Ukraine. We are attracting a mix of professional photojournalists, enthusiasts producing exceptional work while learning the trade, and people with no experience but with great photos and videos to share, often captured on their mobile phones.
The breadth of content uploaded is remarkable. While many images relate to breaking news events, such as conflict in Gaza, others are more reflective examples of photojournalism exploring important issues or just capturing everyday life. Because most of our users record what is known to them, in their city or country, Demotix images provide a more accurate representation of the subject from a local perspective.
Social entrepreneurship
Demotix has a social-entrepreneurial function at the core of our work, making sure journalists in countries across the globe can earn a viable income from their work. Our terms are extremely favourable – payments are split 50-50 and the photographer keeps all the copyright and can withdraw their images at any time. We are raising citizen-journalists to professional rates, because that's what they are worth.
We see this as fundamental to our core aim of incentivizing quality citizen-journalism and secure a viable income for talented freelancers.
Winner – Media Guardian Innovation Awards
We're delighted that Demotix scooped top prize in the Independent Media category at the 2009 MEGAs – one of the biggest prizes out there. It's a huge vote of confidence in the work being produced each day by the Demotix community.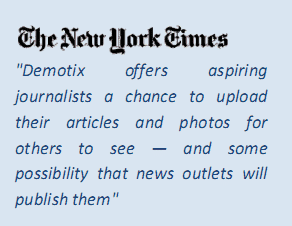 To learn more visit the About Page.