Fotolia Instant App Contest Now Open to Android
Last week, Fotolia launched the Fotolia Instant App for Android. The app, which is also available in iOS allows users to shoot images using their smart phones and sell it directly to Fotolia.
With the immediate success of the app, Fotolia is offering a $5000 prize in the form of Fotolia cashable credits to Android user whose image directly shot with an Android mobile device generates the most sales until December 31st, 2014.
What are you waiting for? Download the app now and start shooting and selling. It's still a long way before the contest ends so you still have time to increase your sales. Want some tips on how achieve photographic success with your smartphone? Go to Fotolia's Instant section on the blog for tips and tricks from Fotolia Contributors and the team.
Fotolia TEN Collection Challenge
Challenge this month's TEN collaborative design duo: photographer Paul Ripke and digital illustrator Nik Ainley with the theme centred around "Sports in the Future."
Photography Contest
Challenge Paul, July's TEN photographer by taking a photo themed "Sports in the Future." Watch the video tutorial for you to discover an inspiration on how to win the challenge.
Graphic Design Contest
Challenge Nik, July's TEN digital illustrator by creating a PSD file based on the same theme.
The winners of the contests will receive the following prizes:
Photography Contest
1 x Adobe Creative Cloud 3 month subscription
1 x Westcott 43" Octogonal Apollo Orb
1 x Exaprint 200 € voucher
300 x Fotolia credits, cashable on Fotolia.com
Graphic Design Contest
1 x Wacom Intuos Pro M tablet
1 x Adobe Creative Cloud 3 month subscription
1 x Roland VersaStudio BN-20
1 x Exaprint 200 € voucher
1 x Template Monster template (single domain license) + 300 USD worth of customization services
1 x Fotolia subscription of 25 downloads per month, for one year
All details of the competition can be found on TEN Collection Facebook app.
Shutterstock Introduces 'Palette' Image Search
Shutterstock has just launched a new image discovery tool called Palette – the latest feature to be developed as part of the Company's lab site.
"Designers love exploring the Shutterstock collection using color and we wanted to create a unique experience for those searching within brand guidelines," said Shutterstock's VP of Product Wyatt Jenkins. "Palette was designed as a collaborative tool to inspire and discover imagery based on color schemes."
Designers and creative professionals can use Palette to:
Inspire ideas: Use Palette during ideation to build moodboards and visualize ideas with a variety of color combinations.
Discover imagery: Curated palettes in the tool suggest interesting color combinations to help customers with their initial Palette discovery.
Customize color combinations: Users can search Shutterstock's library by choosing up to 5 colors to create an individualized palette of their choice.
Access data-driven palettes: Patent-pending algorithms use image data, search queries, and download behavior to collectively determine each unique palette's colors.
Work on the move: Palette is mobile-web responsive to adapt to users' workflows beyond their desks.
Visit this link to know more about the latest addition to Shutterstock's image search tools.
Digitalstock Closes and Moves to PantherMedia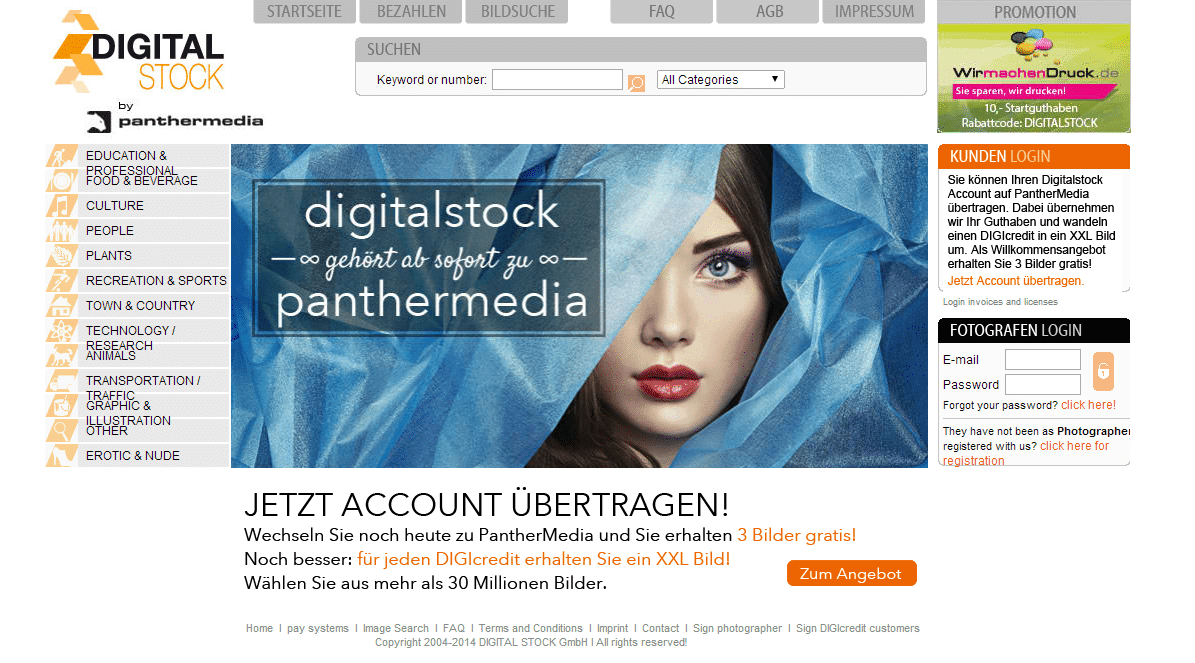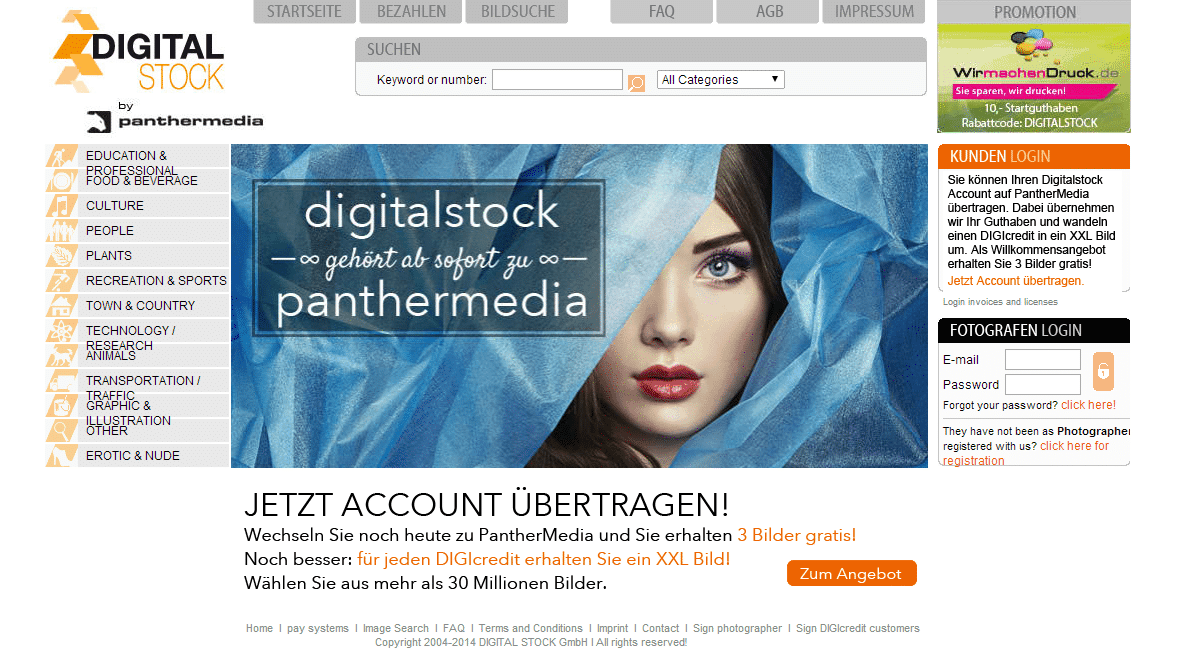 Earlier this July, contributors at Digitalstock received messages that they are reluctantly discontinuing the site after 10 years. However, contributors can move their photos to the site's partner agency, PantherMedia. As of now, no more pictures can be sold on digitalstock.de.
Read this article to know how to transfer your images to PantherMedia. Digitalstock will close on August 21, 2014.
Shutterstock Legal Considerations Guide Now in 8 Languages
Shutterstock wants to foster a safe environment for contributors to license their images to third parties. Contributors must be equipped with the right information to protect their content, and so, Shutterstock created the Protect Your Content Guide so that you can learn more about your rights as an artist. It contains legal considerations in creating content and how to protect your work.
The guide is now available for download in 8 languages  (English, Russian, Spanish, French, German, Portuguese, Korean and Japanese) here: http://www.shutterstock.com/blog/protecting-your-content-a-guide-now-in-8-languages
In addition to that, Shutterstock will be releasing a Spanish version of the Contributor Success Guide soon, found here: http://www.shutterstock.com/blog/contributor-success-guide-available-in-five-languages.
Other Microstock News