Last fall, Berlin based mobile photography startup EyeEm has announced their upcoming EyeEm Market which will allow photographers to sell licenses for their mobile images they shot and uploading through the popular community app. While the marketplace itself is planned to open in summer, the first images are already available through the partnership with Getty Images. As an early photographer with EyeEm, I was happy to be invited with the first batch to test the new features. This guide will help you through the steps to get your images online and up for sale.
The EyeEm Market Dashboard
While the EyeEm app is meant to be used on a smartphone (download here on iTunes for iPhone or here on Google Play Store for Android), the EyeEm Market can only be used through a browser at this stage. You can get access to the Market through EyeEm's website at http://www.eyeem.com/market – the market is Invitation Only at this stage but existing users should not have a problem if they have images with some sales potential in their account already.
Once approved, you can access the EyeEm Market with your login credentials you already use for the app. Signing up with Facebook login is possible as well but you need to use the same account you already set up for the app use. If you logged in, you will get access to your personal Market Dashboard, showing pending and approved images. You can use the green button to "Add more images" from your EyeEm stream to the market.
In this step, you will find the images you uploaded to EyeEm from your mobile phone through the app. So it is not possible to directly upload images to the market place, you always have to go through the app first. Also, you do not have to put up all images from your EyeEm stream to the market place. There is no automatic flow, you get to decide for each of your images if you want to offer those images for licensing or not.
The legal aspects of the EyeEm Market: Model Releases, Property Releases
In a next step, you will have to select which of your images require a Model Release or Property Release. For those of you who are new to the business of selling image licenses: Model Releases are a legal document granting you (the photographer) the rights of the people in your images (the "models") to publish those images for commercial purposes. A Property Release is required if you are taking pictures of protected objects (like art work) and/or shooting on private ground (e.g. a night club or a private appartment). If you want and need to know more about these topics, we will cover them in a separate article soon. Stay tuned and follow us on Facebook and Twitter if you want to get notified.
The EyeEm Market allows two ways of adding model releases: You can invited people through the website via sending an email to agree with selling their images. As I prefer the more professional ways, I am using the EasyRelease app to have my models sign their releases. The app allows me to keep track of all my shoots and models, so for regular photographers, this is the best choice. The releases are being accepted by all major agencies, not only on EyeEm.
The releases are being sent through email as JPG file which you can now add to the images that require a release in the EyeEm Market place.
Here is the only point of critique at this stage: If you have multiple images from the same person, you will soon get tired from adding the same personal data again and again through the website because you have to fill out the form for each single image. I am confident that the programmers at EyeEm will come up with a smarter solution for multiple images in the future, though. Until then, it takes a few minutes extra to get images uploaded to the market.
Review at EyeEm Market and for the Getty Collection
Once you have added all the required releases to your images, they will go to a review. Each single image will be checked if it fits the requirements, both legally and technically, and if EyeEm and their partners at Getty Images find some sales potential in the image. I am very surprised that the review often only takes a few hours (or sometimes just minutes).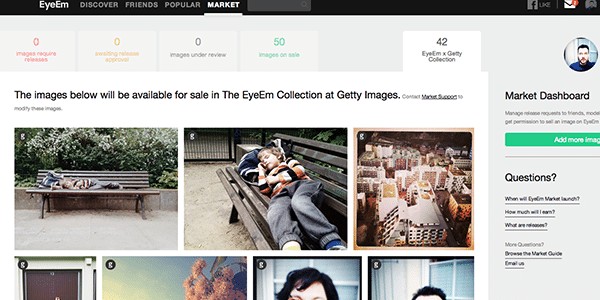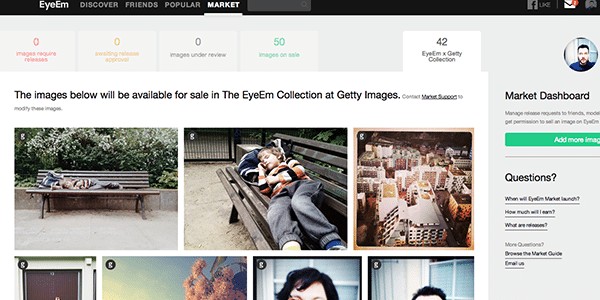 Once reviewed and hopefully accepted for sale, you will receive notifications through email and can check back to your EyeEm Dashboard. You will find out which of the images will be offered for licensing through the EyeEm Market once started. And you will also see which of the images are going to be licensed through the global market leader Getty Images as well. Congratulations, you can now wait for the pay cheque to arrive. 🙂
The EyeEm Collection at Getty Images
While the EyeEm Market itself for direct sales is supposed to be launched in summer 2014, the images are already online and available at Getty Images now. Though, it might take a few weeks to see your first images appear: I was allowed to upload my first images through EyeEm in an early stage, and I have noticed the first few images to go online on the Getty Images website last week, early in May. It is hard to predict how many images they are going to add how quickly.
And now: Waiting for the money
As my first images are now available for licensing, I have to wait for the money to arrive in my account, right? Well, those of you who are already selling licenses for images on other agencies do know: Stock licensing is a long term process. It can months of years for your images to get noticed and needed by a designer of editor for their advertising or editorial needs.
But even in the best case it can take a while: Images available now (in May) could be sold right away. However, Getty Images is reporting sales to their partners once a month, so even immediate sales would only be reported to EyeEm around mid of June. At this stage, I do not see how and where I will get notified and can review the sales. But I am sure those features will be implemented once the first sales are coming in.
How much can we earn? Is it worth it?
The only facts that we know so far: Photographers will receive 50% of what EyeEm earns with our images. The market place itself is not live yet, so we don't know their own pricing. From the first images online at Getty Images, we can already see how much those licenses will be selling for. However, Getty will take a cut out of those fees for their global distribution and marketing networks. And whatever is going back to EyeEm, will be split between the company and us photographers.
I have no idea how much money will flow through this new sales channel. All I can say is that sooner or later all of my images through all my sales channels are making some money. Sometimes I get lucky and earn a lot more than the images cost me in money, time and effort. And sometimes things do not pay off as expected. We will have to see how the EyeEm market works out. The current distribution through the Getty websites and the prices in the macrostock range make me optimistic that it only takes a few sales over the next few years to make it worth my time.
Stay tune to follow MyStockPhoto on Facebook or Twitter if you want to read updates about my experiences with EyeEm Market, Getty Images and other distribution channels to license images. Check out this awesome blog post from EyeEm if you need more inspirations.
More about EyeEm
If you want to know about EyeEm and their current plans, you should also check out the Video Interview our chief editor Amos Struck held with Co-founder Gen Sadakane and VP Market & Sales Dittmar Frohmann. The interview was made on the PictaDay conference and published on our partner website StockPhotoSecrets.com – check out the EyeEm interview here or watch it below: