A New Breed of Animal Image Site – Animal Photography have launched a brand new website
Specialist stock image library, Animal Photography, have launched a brand new website packed with new images, breeds and photographers; lots of fresh content, and a host of new and improved features.
Designed to showcase their growing collection of animal images; help users find, choose and buy their favourites; and provide in-depth breed information, the latest image news and much more, the new animal-photography.com is set to become the online resource for cat, dog, horse, pet, and farm animal pictures.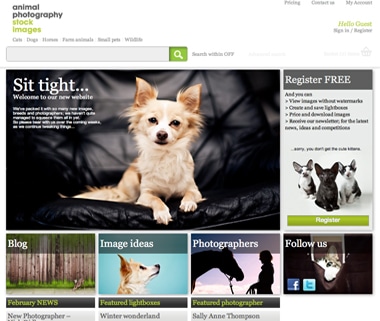 Stephen Taylor, director of Animal Photography, said: "Being a specialist library, we wanted to take advantage of our very specialised content. Therefore we have built a very new kind of image library site that not only showcases the fabulous work of our photographers, but also has the infrastructure to add in-depth information on each and every breed, and of course is much more intuitive to use.
Every breed will have its own page containing image recommendations, breed info, characteristics, and other useful links and information.
We've also made it much easier to browse, select and save images, and have built a site that doesn't just rely on search; which can be daunting to users."
In the run-up to the launch, Stephen and the team have spent a great deal of time and care digitising the collection of Sally Anne Thompson, ready for inclusion on the new site, and have opened the doors to other great photographers.
A total of seventeen photographers, including Cat specialists: Helmi Flick, Alan Robinson and Tetsu Yamazaki, and four leaders in the Dog image field: Paul Walker, Alice Van Kempen, Tracy Morgan, Eva Maria Kramer and Nick Ridley have signed with the London-based library during the last year, with more set to come.
Stephen and the team hope the varied styles of each contributor, combined with the improved functionality of the new site, will help open up the collection to many more people: "Each photographer is carefully chosen to complement and build the variety of our collection and even though we will never be one of the big boys, we believe little libraries still have a place to provide specialist content that you can't get elsewhere." Stephen commented.
The new Animal Photography site is available via the same URL as before:
http://www.animal-photography.com/
For further information contact Stephen Taylor on +44 (0)20 7193 4778
or email: stephen@animal-photography.com
About Animal Photography
Animal Photography is a leading stock image library, specialising in pictures of Cats, Dogs and Horses. We represent some of best domestic animal photographers in the world, and boast one of the largest breed collections, anywhere. Our varied selection of images also contains many Farm animals, Small pets and Wildlife.
At Animal Photography we're committed to offering our clients the best price commercially possible, whilst keeping in mind our unique photographers – each experts in their fields – who earn half the fee of every sale made.
All our images are Rights Managed (RM), and prices start from just £35.