Mobile or smart phone photography is a big hype: There probably are not many agencies left that did not put some focus on this new type of even faster, even quicker creation and sharing of images. Some have launched their own apps, some prefer the "traditional" path of going through their websites. Some prefer a grungy, real life feeling to the images, others would rather see plain borderless images.
I use these 8 apps to improve my mobile images
After giving Fotolia Instant a very short try (for me personally it wasn't the right thing), I have started shooting seriously with my mobile phone when German macrostock agency Westend61 launched their SMART Collection. Only weeks later, I learned that mobile community EyeEm will launch their Market this summer (read my Contributor Guide if you are interested) and they also started a partnership with Getty Images to distribute mobile images through their app. I also managed to get a few images up for licensing on Stocksy United which I shot with my iPhone – Stocksy's approach is that a (good) smart phone is just another camera, so there is no special treatment or section, the images just blend into their regular collection.
So within the last nine months, I went through a quick process of adopting my ever present phone not only as a way to share my private life with friends but also professionally produce images that are up for sale. I tried and used more than 20 apps during this phase, and now is a good time to make a list of which apps will stay permanently on my phone. This list I'd like to share with you.
Remark: While I am using an iPhone, most of these apps are available for Android as well.
Many stock photographers know the NIK plug-ins for Photoshop. The company (now part of Google) also published an app for photo editing. Among the available apps, this one allows some more detailed work and the classic features like contrast and color enhancements.
VSCO Cam, hip and trendy filters
Visual Supply Co is focused on providing software to re-create the classic analog film looks from digital images, Their Lightroom presets have become very popular among trendy photographers. Their mobile app VSCOCam also features a lot of easy to use looks as presets.
Preset packages are charged separately, so if you have a chance, use a discount to get a whole bunch of them at once.
PicTapGo, Recipes for personal style
Like VSCO, RadLab is offering Lightroom and Photoshop Add-Ons. Their mobile app PicTapGo offers lots of presets for color changes or the popular faded looks. They also offer to store personal sets of "recipes" combining different filters with selected strength. This allows phitographers to develop a personal style for their mobile imagery.
Hipstamatic, the classic smart phone image app
This is kind of the "original" app that started all the hype around grungy images. It still is one of my favorite apps because it frees my mind: Having selected a combination of "lens" and "film", it takes a while to "develop" the image. In a way: Once you click the shutter, you have nailed or failed it. One you know how the different lenses and films work, you just have to trust to get it right in camera.
The app is limiting sometimes because it only offers a square crop and some of the film borders cut deep into the image. So for flexible stock photography, it is not the best choice. But every now and then you should go out and try to capture the essence of a day using Hipstamatic – it will help your photographic eye and vision and forget a bit about the "I can still fix it in Photoshop" feeling.
FrontView, get your images straight
For architectural shots, FrontView is a must have app: It allows straightening lines when shooting buildings from below.
The app is useful but needs to be used careful: In the end, we are dealing with an original shot in JPG, so drastic changes will lead to visibile distortions and loss of detail.
SlowShutter, when light is limited
This app allows for better results in low light and can emulate long exposures. When being used in combination with a tripod, the results are pretty good. There are still technical limitations, so the result will look different than shots from a DSLR but for a mobile solution this is pretty stunning.
Pro HDR, manage high contrast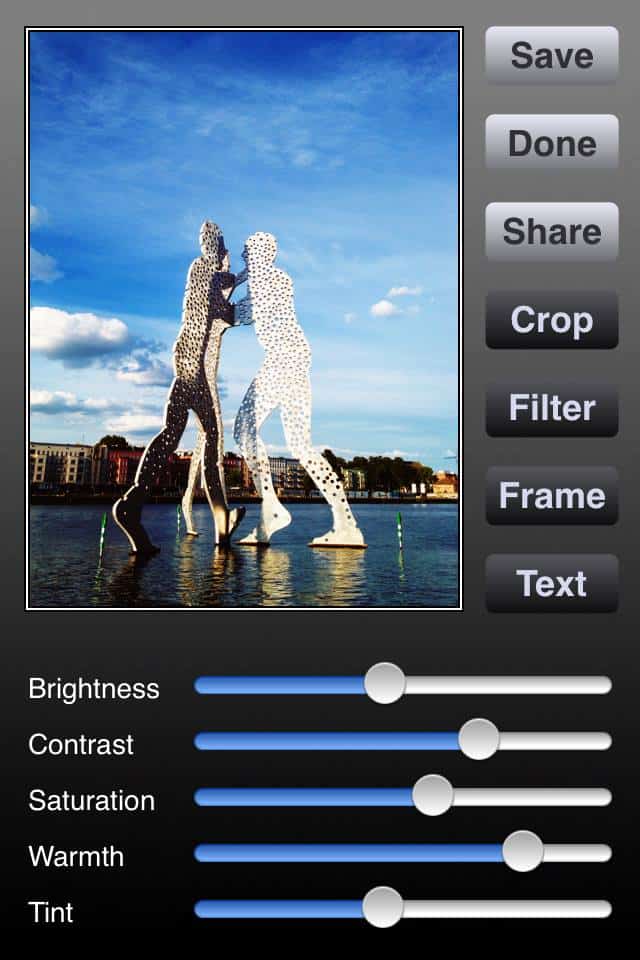 Professional photographers judge HDR to be overused in most cases. However, when shooting with a phone in JPG, 8 bit just isn't good enough and you end up with blown out highlights or black shadows. Pro HDR allows you to manually select two different exposure points, shoots two images and combines them to an HDR view. When being used with care, the result look amazingly good and definitely better than what you can get from a single exposure.
Lapse It, beyond photography
While mobile cameras are still technically limited, most of them work pretty well fir video. And this is even more true for time lapses: For an HD video, all you use are 2 megapixels, using the Lapse It app to create time lapses makes totally sense.
Hint: Put your phone into Flight Mode before starting your time lapse. And preferably use a tripod to fix it.
What does it cost to be a mobile photographer?
Most of the apps mentioned in this post are not free. As usual with apps, most of them only cost a dollar or two. Some of them (VSCO Cam and Hipstamatic especially) charge extra for sets of their filters. However, all combined I definitely spent far less money on apps that even a cheap photo editing software like Photoshop Elements would have cost.
What else is out there?
I did not try the mobile versions of Photoshop and Lightroom (only for iPad) so far. Those two might be nice additions to my list in the future. I tried far more apps than listed here. Most of them are not really suited for professional photographers as their effects might look great to amateurs to share online but in the large resolution they kill images by adding extensive noise, distortions, blown out colors etc.
I would also like to extend my mobile photography to connect my mirrorless camera to my iPhone – or even better to the iPad -, process my images and share them directly. This will require a WiFi enabled SD Card which I will get in the near future. Then I won't have much more reason to carry a DSLR unless I am sure I need it for certain shoots.
The next step: Keyword, upload, add releases
For stock photographers, you also need to worry about adding meta data to your images, get them uploaded to the agencies of your choice and potentially add releases for models or property. I will try to cover this in a future article. I would kindly ask you for your feedback if you are already using this kind of apps as my personal experience is pretty limited so far.
Image: Copyright Maartje van Caspel